Crandon Park is a large county park complex that offers something for everyone  including  beaches, hiking and biking trails, a tennis center, golf course and marina. Visitors to the park can explore the various ecosystems of the Key including the dunes, mangroves, and coastal hammock and seagrass beds; and observe herons, ospreys and many brilliantly colored butterflies.  The Island is also home to rare and beautiful plants like the beach peanut, Biscayne prickly ash and the coontie. The beautiful sandy beach, coastal dunes and tropical hardwood hammocks are an important nesting and feeding ground for migrating songbirds, hawks and sea turtles.  Seagrass beds provide a home for mangrove snapper, parrotfish, crabs, shrimp, sea stars and puffer fish.
Located in Crandon Park is a designated natural Environment Study Area, and serves as a window to the wilderness that was once South Florida.  Miami-Dade Parks' naturalists guide visitors through the Preserve to explore the hammock, ocean and beach communities and see the amazing animals and plants that inhabit South Florida.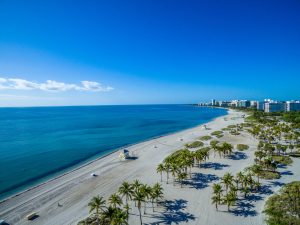 Crandon Park's beautiful two-mile beach is consistently named among the top ten beaches in the nation. It is one of the most popular recreation destinations in all of Miami-Dade County, enjoyed by millions of residents and tourists each year.
The beach is celebrated for its pristine sand, calm water, winding promenade, concession stands, multiple picnic areas with tables and grills, and convenient parking for over 3,000 vehicles
Crandon's ocean and waves offer challenging sails for wind warriors. Kite-Board equipment rentals and lessons are offered at the park's beachside water sports concessions
To assist those who are mobility impaired, special beach wheelchairs, have been placed at beach areas.
Address: 7300 Crandon Boulevard, Key Biscayne, FL
Crandon Tennis Center houses 27 courts, including 13 that are lighted. Lessons are offered, reservations are accepted and the courts are wheel-chair accessible.
Activities: Tennis, Tennis Lessons
Crandon Golf at Key Biscayne
Address: 6700 Crandon Boulevard, Key Biscayne, FL
Crandon Golf Key Biscayne is a championship 18-hole golf course. It is the perfect alternative to civilization where you can spend a day enveloped by the tropics. Crandon Golf is an explosion of color and light surrounded by water, mangroves and lush, tropical foliage. You can experience the local wildlife in its natural habitat too! Secluded and inviting, Crandon is the only public course on  the Bay.
Crandon's seventh hole is touted as ''One of the Greatest Holes in Golf,'' a gorgeous par 4 that doglegs to the right and sends your golf ball soaring over the beautiful bay.
You can dine on the course at Fairways on the Key, the on-site restaurant at the golf course.
Address: 4000 Crandon Boulevard, Key Biscayne, FL
This first class marina, near spectacular fishing and artificial reefs, is part of internationally known Crandon Park. It has a dive boat operation...and is across the street from miles of beautiful sandy beaches, including popular Crandon Park Beach.